Ancillary Station Items
Hernon Manufacturing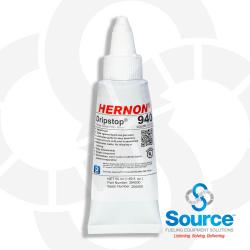 Dripstop 940 is a high-speed thread sealant for use on inactive metals such as stainless steel and monel used in chemical process piping. Normally, inactive materials like stainless would require a primer to assure predictable cure. 940 is formulated to cure without the necessity of a primer, but, priming does reduce cure time. The enhanced chemistry of Dripstop 940 Delivers super fast cure speeds on conventional materials, like carbon steel, brass, etc. Dropstop 940 withstands high pressures, sealing up to 250psig steam at 400&degF (204&degC) continuous service while maintaining its chemical inertness.
Displaying: 1 - 1 of 1 results